Let me get the disclaimer out of the way first. I am not a medical doctor or biologist. I feel too many economists and analysts who do not have a background in these areas pretend that they do and write as such, but really have no clue what they are writing. I am just an investor with an interest in science. With that said, I have two companies that I believe are the leaders in the field of stem cell technology and have enormous potential. The two companies are Geron (GERN) and Advanced Cell Technology.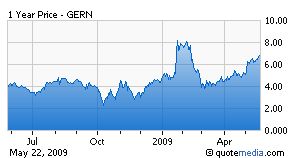 Geron is scheduled to begin the first ever human clinical trial with human embryonic stem cells (hESC) as the treatment this summer. The goal is to repair and regenerate the myelin sheath of spinal cord injuries. The myelin sheath is basically the electrical conductor that lets the brain's signals reach other body parts. When damaged, these signals cannot pass the damaged area, resulting in paralysis. The results in the 2,000 rats in the animal model are very encouraging. They all regained movement in the lower lumbar region and had zero side-effects (i.e. tumors). The reason tumors can occur in these treatments is that the hESC needs to be differentiated to develop into the cell type that is wanted and require a delivery device that hits the injured spot in pinpoint accuracy. If either of these two requirements are not met, the hESCs can move throughout the body and/or have uncontrolled growth. Geron and Advanced Cell Technology, however, have these requirements covered.
Geron is not a one-trick pony either. It is also using hESC to develop cardiomyocytes for heart disease which is in product development; islets for diabetes, chondrocytes for cartilage regeneration, osteoblasts for bone regeneration, and hepatocytes for liver disease. The latter four mentioned are still in research phase.
Geron is not all hESC though. It is highly involved in cancer treatments focusing on telomerase. Telomerase is an enzyme that is found in a majority of cancer cells and is now thought to be the cause of the cancer cells' immortality (never-ending division and growth). Geron's drug, Imetelstat (formerly GRN163L), is a telomerase inhibitor designed to suppress telomerase in the cancer cells thus destroying them. Geron is currently conducting multiple trials in different types of cancer as a single-agent and multiple-agent with other cancer treatments. Two cancer vaccines are also developed by Geron. GRNVAC1 uses the telomerase inhibitor and is licensed to Merck. GRNVAC2 is the second generation of the cancer vaccine using dendritic cells produced from hESC instead of telomerase inhibition. This linktakes you to Geron's website to the page discussing telomerase and the trials currently ongoing for cancer.
Safety and tolerability with Imetelstat is showing promise as dose escalation keeps increasing. Geron is now clinically seeing evidence of telomerase inhibition in humans. Geron also figured out how to stop thrombocytopenia, the only known side-effect of Imetelstat, from occurring. Thrombocytopenia is a reduction in, or condition of, having lower than normal platelet count in the blood. This side-effect occurred when Geron was using a dosing cycle of six weeks on, one week off. Since then Geron tried a two week on, one week off cycle. This new cycle has not affected results, telomerase inhibition, and has got rid of the thrombocytopenia side-effect.
Geron also holds patents on animal cloning, in addition to everything discussed above. Animal cloning has been approved by the FDA and EU as a breeding technique for farmers for use in the food supply. The best animals for meat and disease resistance would be cloned. These cloned animals would then mate and the offspring would eventually find their way to the supermarket, so we would be eating the offspring of clones and not the clones themselves, neither of which is found to be genetically different than eating the originals. If price comes down this technology could be main-stream for not only farmers, but racehorse owners to clone their stallions, and the average person to clone his or her beloved cats and dogs. Estimates have the potential of animal cloning reaching $20 billion a year.
Finally, for a start-up biotech, Geron has a pristine balance sheet. The company, last quarter, had cash and equivalents of $126 million, total assets of $211 million, total liabilities of only $7 million, with an estimated $35-$40 million cash burn rate per year for clinical trials.
Advanced Cell Technology is not as well managed fiscally as Geron. The company, in fact, was scheduled to be bankrupt in August of 2008. Advanced Cell Technology, however, has fought back by restructuring debt, securing private investments, and establishing a joint venture with South Korea's leading stem cell company CHA Bio and Diostech. Advanced Cell Technology also hopes to receive NIH funding as a result of President Obama's stem cell EO. The company is in the process of re-listing on the bulletin board with the eventual goal of re-listing on the NASDAQ.
Why invest in Advanced Cell Technology then? Like Geron, its patent breadth is vast. The company plans on being the second company (Geron is the first) to conduct a hESC trial as it plans to file an IND with the FDA for its retinal pigment epithelium (RPE) program for eye disease this year. Advanced Cell Technology is also ready to start phase 2 of its myoblast trial for heart disease. This trial was basically bought as the company bought Mytogen in 2007 which is the main source of its financial woes. This trial uses adult stem cells which is why it is in trial and was not affected by the previous stem cell limits imposed by the previous administration.
Perhaps the biggest of all potential products is Advanced Cell Technology's patent on the creation of blood from hESC. Advanced Cell Technology is the company that first created hemoglobin from hESC and says it could create it on a mass scale. The significance of this is the potential to end our blood shortage with universal and disease-free blood. There has to be a certain amount of blood on hand in hospitals for surgical procedures in case of a mishap in all developed nations. This means endless demand for a blood product.
Stem cells, especially hESC, are coming upon a crossroads. Setbacks in Geron's trial will unfairly hinder the entire industry while successes will unfairly life the entire industry and probably signal the all's clear to big pharma to buy up these companies for pipeline. One thing is clear though, an interesting and historic time for the direction of the future of medicine is upon us.
Source: Seeking Alpha 25 May 2009